Product Description
Connect. Work. Disconnect. Go. The days of only working at your desk are gone. We're always on the move bouncing between our desks, meetings, and couches — often in a hurry. With a single connection to your notebook computer, the OWC Thunderbolt 3 Dock makes coming back to your desk to work and leaving your desk to run to a meeting, a much quicker endeavor.
The right ports, right where you need them
Our engineers evaluated thousands of possibilities in discovering the optimal port configuration for nearly any environment. With its 14 ports of connectivity thoughtfully placed, the OWC Thunderbolt 3 Dock delivers convenience while keeping desktops clutter-free. The docking station's front is designed for the easy connection of your portable devices, headphones and media cards, while the rear features a multitude of ports for your static devices so cables stay out of sight.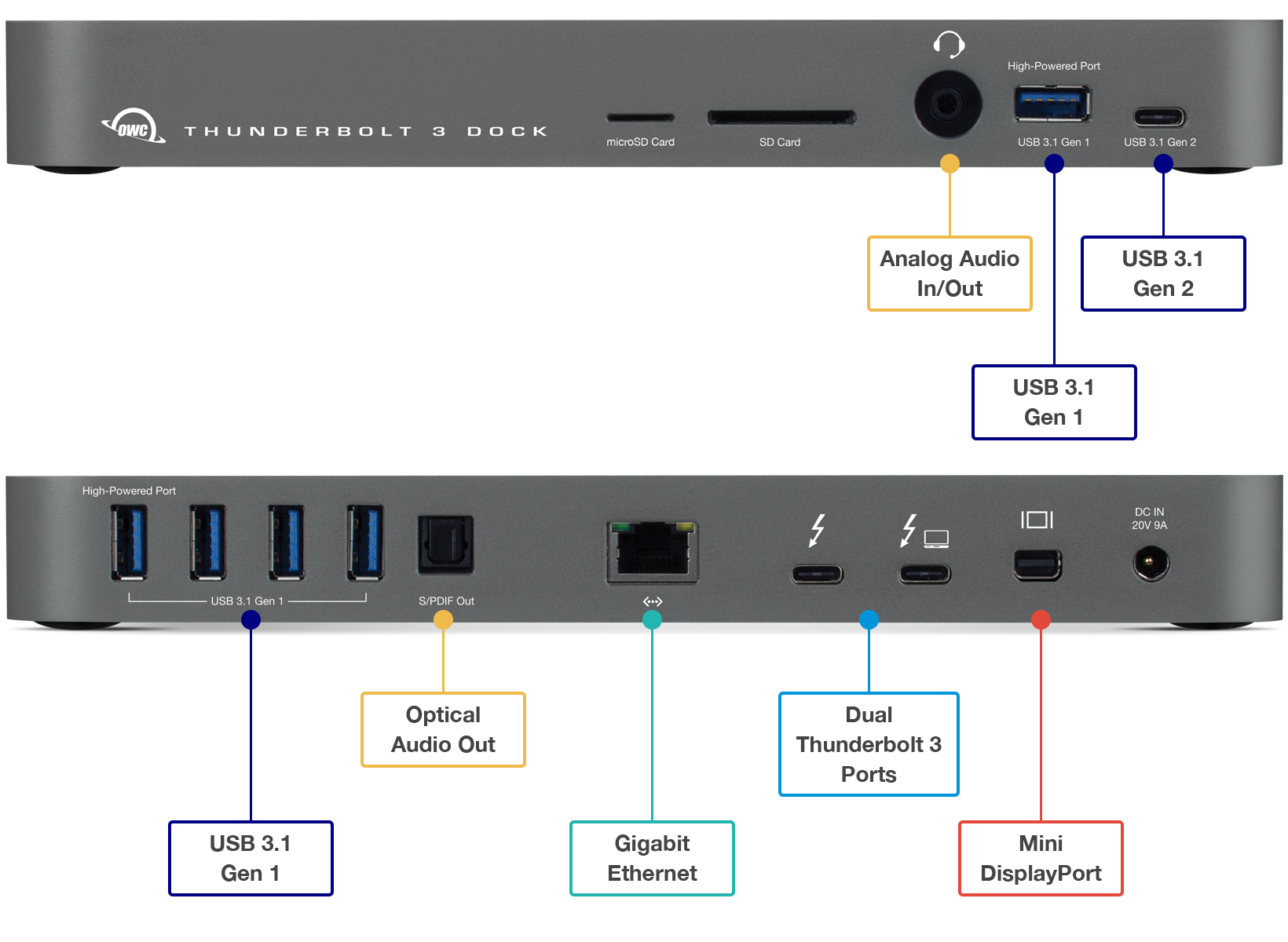 Thunderbolt 3 Power
Thunderbolt 3 is the most advanced and versatile interface available. So we've harnessed its power with the OWC Thunderbolt 3 Dock to provide the highest speed and most connection options. The dock's main Thunderbolt 3 port provides up to 85W of power to your notebook computer, while the secondary Thunderbolt 3 port provides Thunderbolt device chaining, USB 3.1 Gen 2 connectivity and display support.
   USB connections that matter
The OWC Thunderbolt 3 Dock moves you into the future without leaving the past behind by including two USB Type-C (10Gb/s) ports1. as well as five USB Type-A (5Gb/s), with one of each located conveniently on the front. Whether connecting your printers, storage and keyboards via Type-A or the latest mobile devices and portable SSDs via Type-C, the OWC Thunderbolt 3 Dock has room for all of your gear.
   Wired for speed, security
The Gigabit Ethernet port brings access to high-speed, reliable and secure wired networks back to your notebook, giving you the fast data transfers and peace of mind that only come with a hardwired connection. Gigabit Ethernet provides a fast 1000Mb/s connection vs. slower 600Mb/s 802.11n or 48Mb/s 802.11g wireless standards. And for those in need of an even faster connection can utilize the OWC Thunderbolt 3 10G Ethernet Adapter for an up to 10X performance increase over the Gigabit Ethernet.
   Music to your ears and everyone else's
Plug your headphones and mic into the front output/input jack to listen to your music and podcasts, and connect your audio systems into the rear optical S/PDIF port to fill a room with pristine sound.
   Multiple displays, multiple types
Screen real estate is a must. One display is no longer enough for office workers, gamers or students, let alone creative professionals. By providing display support via both the Mini DisplayPort and secondary Thunderbolt 3 (USB Type-C) connection, the OWC Thunderbolt 3 Dock can more than triple your screen space by driving two displays with up to 4K resolution or a single 5K display.
2 Year OWC Limited Warranty
OWC is proud to provide outstanding support and warranty coverage to our customers. OWC's industry leading coverage is a testament to the reliability of our solutions. All OWC products are engineered to meet demanding quality standards in order to deliver the most reliable performance available on the market.