Product Description
Performance and Data Security
Are you looking for an affordable multi-drive rackmount storage system? Sonnet's Fusion R400 RAID USB 3.0 should be on your short list. At just 1.75″ tall, this versatile 4-drive RAID 5 SATA storage system is simple to deploy in most server racks, and delivers reliable operation and simple configuration in a convenient, budget-friendly package. This Sonnet storage system is equipped with a high-performance internal storage controller that manages the enclosed 3.5″ hard drives, and offers five drive configuration options (including RAID 5). Its USB 3.0 interface ensures that you will be able to connect the system to just about any computer.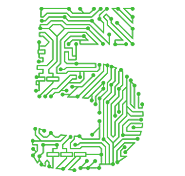 Hardware-Based RAID 5 Storage Controller Onboard
The Fusion R400 RAID USB 3.0's integrated storage controller supports RAID 5 formatting without additional hardware or software, providing data protection in the event of a single drive failure and eliminating the need for a specialized RAID controller card. In addition to RAID 5, the R400 USB 3.0 supports RAID 0, RAID 10, Span, and JBOD drive formatting. With RAID 0, all four drives are combined into a single volume to offer improved performance and full drive capacity, but without any protection in case one of the drives fails. With RAID 10, two drives are combined into a single volume, while the remaining two drives mirror the data on the first two, providing good performance and better file security. Span formatting combines all four drives' capacity into a single, large volume.  The JBOD (Just a Bunch Of Disks) formatting option enables more concurrent audio file editing capabilities. Whichever mode you choose, setup is as simple as setting a switch. Drive operation and health status is available at a glance with multi-color LEDs.
Key Features
Protected Data—When drives configured as a RAID 5 set, data transfers up to 240 MB/sec while protecting the data
RAID Controller Onboard—Integrated hardware RAID controller supports RAID 5, RAID 0, RAID 10, JBOD, and span drive configurations with no specialized controller card needed
Simple Cofiguration—A simple switch enables you to select RAID modes and configure the drives to meet your performance and data security needs
Simple Status Display—Multi-color LEDs allow you to determine operating status at a glance
USB 3.0 Interface—Single cable to host connection simplifies set up and reduces cable clutter
Temperature-Controlled Fan—Operates slowly most of the time, and speeds up with extended, intense disk activity
Wide Host Controller Card Compatibility—Compatible with Sonnet's full line of Tempo PCIe and ExpressCard/34 host controllers
Cross Platform Compatibility—Supports Mac® and Windows®, and Linux® computers
USB 3.0 Interface
Connecting the Fusion R400 RAID USB 3.0 to your computer is simple—the 5.0 Gb/s SuperSpeed USB 3.0 interface delivers superior performance with USB 3.0 port-equipped computers, and enables you to connect the system to nearly any computer equipped with USB ports(1). If your computer doesn't have USB 3.0 ports, Sonnet offers a wide variety of PCIe and ExpressCard/34 computer cards to get you connected.
Versatile Performance
The Fusion R400 RAID USB 3.0 delivers data transfers up to 240 MB/sec read and 230 MB/sec write with its drives configured as a RAID 5 group. The flexibility and interoperability that the R400 provides are a great match for the various operating systems, applications and output demands your workflow requires. Because this Fusion storage system uses an integrated storage controller, it supports Mac®, Windows®, and Linux® computers, no configuration software required.
Just Add Drives
With new, higher-capacity hard drives introduced every few months, your choice of drives continues to expand. To allow you the widest selection possible, Sonnet sells the Fusion R400 RAID USB 3.0 without hard drives; just purchase the drives that best suit your capacity and performance needs(2).