32.0GB OWC Memory Module For Mac Pro (Late 2013 – 2019)
32.0GB OWC Memory Module For Mac Pro (Late 2013 – 2019)
₱21,990.00
₱21,990.00
240-pin SDRAM DIMM
1024M x 72, Dual Rank ECC Registered Memory Module
Data Rate = 1866MHz
Module Bandwidth 14.9GB/s
CL13
Voltage 1.5V
Apple Specified Thermal Sensor
RoHS Certified
Warranty Safe Upgrade.
OWC Memory Lifetime Limited Warranty including Advanced Replacement Program
Compare
Compare
Description
32.0GB

OWC Memory Upgrade Kit
4 x 8.0GB PC3-14900 DDR3 ECC 1866MHz 240 Pin
OWC Memory Lifetime Limited Warranty including Advanced Replacement Program |
30 Day Money Back Guarantee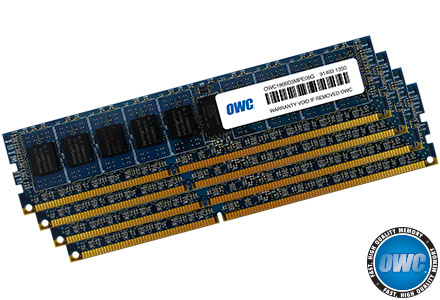 OWC Memory for Mac Pro 2013 fully meets Apple's specifications with special attention to proper thermal specifications.
IMPORTANT MAC PRO 2013 UPGRADE NOTE:
Apple Mac Pro 2013 models utilize thermal enabled ECC-Registered and ECC non-Registered memory. ECC Registered and non-Registered memory may not be mixed. Existing factory or post installed 4GB or 8GB ECC non-Registered modules need to be removed prior to installation of OWC 8GB, 16GB, or 32GB server grade ECC-Registered memory upgrades.

Save money by trading in your original chips!

View available memory rebates.
From the purchase date of qualifying memory from OWC, you have 60 days to trade-in your old memory for a cash rebate!
Just fill out OWC's online rebate form or contact OWC Customer Service after you receive and install your new memory.
---
Only logged in customers who have purchased this product may leave a review.