1.0TB 2.5″ OWC Solid State Drive 7mm, OWC Express Enclosure, and OWC 5 Piece Toolkit
1.0TB 2.5″ OWC Solid State Drive 7mm, OWC Express Enclosure, and OWC 5 Piece Toolkit
₱23,890.00
₱23,890.00
Mfr P/N: OWCY3SSD6X240OWC
SKU: OWCY3SSD6X240USB
3.0 Enclosure Kit with OWC SSD Drive & 5 piece toolkit.Drive:
5 Year OWC Limited Warranty
Enclsoure: 1 Year OWC Limited Warrant
Compare
Compare
Description
Reviews (0)
More Products
Description
1.0TB 2.5″ OWC Solid State Drive 7mm, OWC Express Enclosure, and OWC 5 Piece Toolkit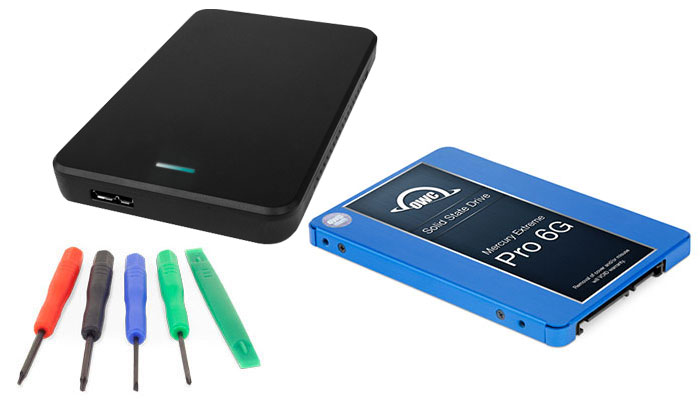 Get more storage when you upgrade/replace the existing 2.5″ drive in your Mac.
Includes a 2.5″ drive, enclosure, and toolkit to upgrade/replace the internal drive in your Mac.
Upgrade/Replace your internal drive
The Drive and Tools you need to Upgrade/Replace the existing 2.5″ Drive in your laptop, Mac mini, Xbox, PS3, etc + make the drive being replaced an External for data transfer, backup, and/or additional portable storage.
Everything you need in one package, immediately ready to assemble and:
Backup and store your data with style and confidence.
Take your data with you – small enough to keep in a pocket!
Easily add additional laptop storage with no AC adapter required.
Examples of how this bus-powered Express bundle can be used in real world situations:
Power Users / Travelers: Relocate your "home folder" to your Express and have your files with you at home, at work or on the road without the need to synchronize your machines.
Laptop Owners: Clone your current internal SATA hard drive in your laptop to the new drive. Then install the new, larger drive in your laptop and keep the smaller drive in your Express for additional storage space.
iTunes Aficionados: Keep a copy of your iTunes library on your external drive to play on multiple machines.
Gamers: Add additional storage to your XBox 360 or PS3 game console to store music, media, and other downloads. PS3 even includes a backup utility to protect your internal drive's data.
For Everyone: Have the piece of mind of a complete backup plan. Create a bootable clone of your hard drive at regular intervals so if your computer goes down, your productivity doesn't go down with it. Boot to another computer and keep on working!
The Right Tools for the Job
Before attempting to perform this installation, please watch the following instructional video in its entirety to determine your ability to perform this complex procedure. OWC assumes no responsibility for damage that may occur during the install. Technical support for this DIY product consists only of this video.
Everything you need in one package, immediately ready to assemble and:
OWC Express 2.5″ USB 3.0 Drive Enclosure
OWC Mercury Extreme® Pro 6G SSD 240GB
OWC 5-Piece Mini Toolkit

Nylon Spudger
Phillips #00
Straight Blade 1.8mm
Torx T8
Torx T6

High quality double-shielded USB 3.0 B to USB 3.0 A/USB 2.0 A connector cable
Carrying sleeve
1 Year OWC Enclosure Limited Warranty with 48-Hour Turnaround Time
Yes, You Can Do-it-Yourself
---
Only logged in customers who have purchased this product may leave a review.