HDD to SSD Upgrade Kit
Includes: SSD, tools & transfer enclosure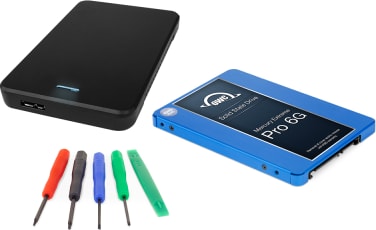 OWC Solid State Drives For MacBook Pro Non-Retina (Mid 2012 – Late 2016)
32x
Up to 32x the capacity of the original drive
92x
Up to 92x faster than the original drive
Works with the following Model IDs
MacBookPro9,1
MacBookPro9,2
OWC Mercury Extreme Pro 6G
Professional grade SSD that delivers even higher performance for audio & video production, photography, & more.
No slow downs – Maintains read/write speeds exceeding 500MB/s over the entire drive capacity.
Designed to keep working at full speed over the duration of the drive.
Engineered for Mac first. No extra software needed.
Backed by a 5 Year OWC Limited Warranty.